Truckers Trip Planning App, the only hours of service trip planning app for truck drivers that lets you calculate a load's required Hours of Service, ETA, NAT, Generated Revenue, Profit or Loss, and respond to Dispatchers or Brokers with fast but accurate load decisions in less than 5 minutes!
The Truckers Trip Planning App Is Based on Hours of Service Trip Planning And Load Profitability!
​
The Original Hours Of Service Truck Driver Trip Planning App!
"Great app have been using it since 2016. very accurate tools for planning a load."
Richard N.
The "

Truckers Trip Planning App"

was "

Built By Truckers For Truckers"

with the tools to answer the most important questions Company Truck Drivers and Owner Operator Truck Drivers need to answer to make accurate load decisions in

5 minutes or less:
Do you have the hours of service required by your assigned load?

Can you legally deliver your assigned load on time?

Will your assigned load generate enough revenue to sustain your Bottom Line?
​
"This App really makes trucking life easier! Thanks again for the help and for the amazing app!!!" Chris D.
Dispatchers should be building cohesive relationships with their drivers. Company Truck Drivers should no longer be running loads that they cannot legally deliver on time. Lease and Owner Operators should no longer be running loads that does not satisfy their "Bottom Line!"
What Are You Waiting For?
Make Your Life In The Truck Easier!
Solo Company Drivers - Team Company Drivers - Solo Lease Operators - Team Lease Operators - Owner Operators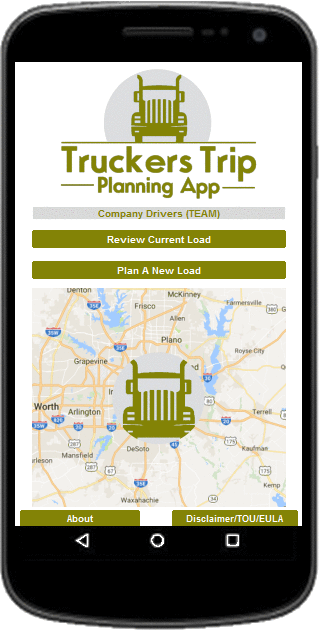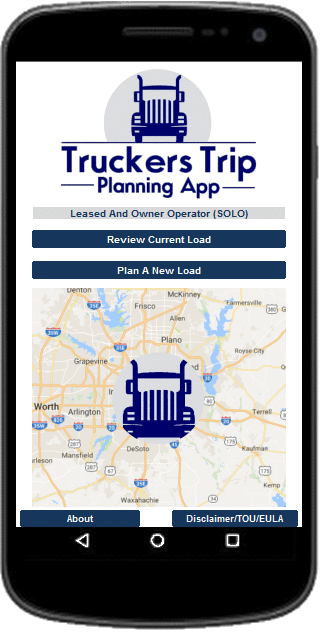 Your Truckers Trip Planning App can be used on your Iphone, Ipad, Android, Windows Phone, or Your Windows PC
No Subscription Required! One-Time Cost For All Apps!
Truck Drivers, both new and old, should be aware that finding truck stops, finding parking, and planning rest breaks are all second nature to making accurate decisions as to whether you should run your load in the first place and that you can't accurately calculate load requirements using Drive Time and PC Miler's straight line miles!
How The Truckers Trip Planning App Works!
Accept The Load - Plan Your Load - Run Your Load - Track Your Income And Your Expenses!
Truckers Trip Planning App Concepts
Truckers Trip Planning App Setup
Rest Easier With A Solid Plan
Truckers Trip Planning App Concepts
THE TRUCKERS TRIP PLANNING APP IS AUTHENTIC
TRUCKERS TRIP PLANNING APP CUSTOMER REVIEWS
Since 2016,

the Truckers Trip Planning App for truck drivers has consistently been improved based on feedback and ideas from Dispatchers, Solo and Team Company Drivers, along with Solo and Team Lease Operators and Owner Operators who are currently in the truck. Read what truck drivers just like you have to say about using the Truckers Trip Planning App.
"This app is amazing for what you pay. The speed at which you can figure out not just eta but profitability is mind blowing. I have never been assisted with an app before by a live person but the creator is a truck driver and spent more time than I can afford to pay him helping me understand its uses. Finally an app that can help truckers make money instead of accepting a load then to be frustrated with it. Thank you J for developing this app and all your help, I look forward to turning a profit."
"As an Owner-Operator this app is an asset to my business operations. The customer service alone exceeds the price of the app, and has been outstanding on multiple occasions."
"This application is great, something truckers shouldn't do without. Would be a lot better though if there was a place to add notes to the load sheet. Also multiple stops section instead of just two (A-B) would make it a five star app. Correction: This is a five star app. Multiple stops has been there, I just didn't notice and notes will be considered in future builds will get an awesome five star review from me. Thanks for the best app for truckers. I will be sure to tell my friends about this awesome application."
"We are a one truck company that started using this program shortly after we became owner/operators. This software has speeded up the our process of booking trips out that we've gone from earning approximately $6000 a week to earning over $11,000 a week because we can so closely run our trip planning. A must have for anyone that is serious about running a trucking company."
"I haul meat and produce and this is an app I been looking for a long time to help me to know my expenses and revenue down to the penny in real-time on each and every load I pull! The app is works very well for Owner Operators, lease Operators, and Company drivers you can use it too! The app It gives you a real clear ideal when to take or not take a load base on your hours of service. It also gives you a real time view of your expenses, cost per load, revenue per load, yearly revenue, and more. It also will tell you base on preliminary load information from a broker, agent ,or dspatcher if a load is profitable or not before you accept it! At this time there no other app I found that comes close this app!! Thank you and keep the development up!"
"I am relatively new in the trucking industry. Trip planning can be a long and arduous process, as you well know if you are in the business. I purchased the software offered by Young and Healthy Marketing. I cannot express enough how much time this program has saved me. I purchased it specifically to help with the trip planning. Not only does it do a phenomenal job of trip planning, it shows if you have enough time to do the run or not! When you purchase the app, you are also able to see what your ETA is for your next pick-up and delivery and when you are available for your next load. You are able to calculate your operating cost per mile, the total revenue for the load, how much fuel you will need for a particular run...I cannot say enough about this app. It has save me numerous hours of ripping my hair out calculating all these things by hand. I you are an owner/operator, hands down this is THE BEST solution I have found!! I would, without hesitation, pay a lot more than what is being asked for - it is that good, and you get a real live person to speak to - right off the bat, should you need any assistance!"
Lynn H. (Better Business Bureau)
"Great Customer service!!! I emailed the developer regarding an issue I was having with the app. Within a few hours I received a response. The developer had actually had to wait for me to respond to his email. It took only one phone Call to solve my problem. I was very pleased with his ability to solve my problem. I was happy with his level of courtesy. This app surpasses any that I have ever used in the past. I have used many different apps that claim that they can cover all of my needs. This app does everything I need in one single app. I would suggest this app to anyone."
"I've had this app for a few weeks now and I must say that purchasing it was one of the best decisions of my life! I've been driving trucks for couple years now and I decided to start my own authority and become an owner operator. I was nervous in becoming an owner operator because theres so much that I needed to learn in order to have the best chance of a successful business. This app guides you and basically shows you everything you need to know to be successful! It can help you to calculate your cost per mile, help you to determine if a load is profitable or not before you even except the load and it even helps to navigate you from A to B when hauling freight. Since downloading the app I can honestly say that I'm more confident with my new endeavor and this Truckers Trip Planning App is truly heaven sent. Give this app a try and YOU'LL BE GLAD YOU DID. This app is a game changer!!"
As of March, 2015, we found that there were no available apps on the market that attempted to resolve our on time delivery and profitability concerns in such a way that we could see the results of running unsatisfactory loads before we actually delivered them. SO WE BUILT IT!
In 2016, while being strikingly unique as opposed to the many apps to help you get truck routes, find truck stops, and planning rest breaks, we introduced the "Truckers Trip Planning App" which allowed us to see upfront what loads required of us before being rushed into accepting them!